Whether you're building your dream deck yourself or hiring a team to do it for you, one of the most crucial parts of the process is deciding what type of material to use. You probably know that the two most common options are traditional timber decking and composite decking, but how do you decide which one is right for you?

While both have unique pros and cons, it's important to determine which choice is better for you based on your budget, specifications, and overall preferences. If you're wondering exactly what the difference between composite and timber decking is, there are a few key factors you can keep in mind while conducting your search for the perfect material for your dream deck.
Timber vs Composite Decking
It's up to you to decide what material will be used to build the surface of your deck.
Timber decking is solid, traditional, and can easily feel like the obvious choice. There are a wide variety of rich, vibrant wood types to choose from. Natural wood looks great, but each type of wood comes with its own inherent issues. No matter which wood you choose, it will deteriorate over time.
That's why, more frequently, people are now pivoting to wood-plastic composite decking, which is made of eco-friendly recycled timber powders and high-density polyethylene. Composite decking offers the same beautiful look of real wood while expanding the life of the deck overall.
However, it all comes down to preference and the needs of your specific deck. To help you make your choice, keep reading for some of the key benefits of composite decking vs wood.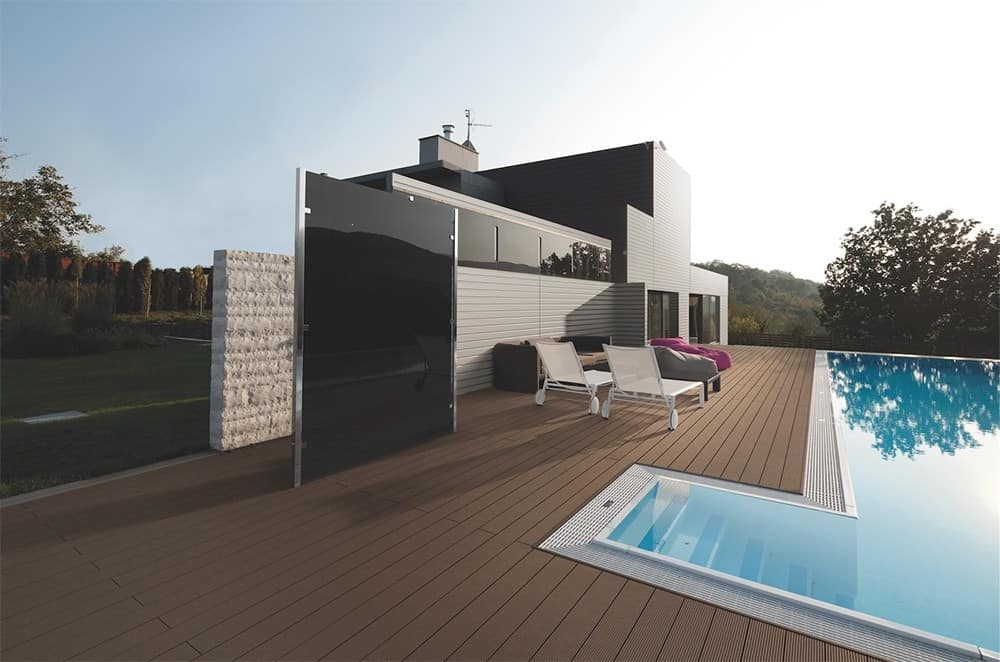 The Pros and Cons
While many builders and homeowners might think that composite decking won't feel like the "real thing," high quality composite decking can actually offer a lower maintenance and longer lasting alternative to timber decking. For some, this solution offers the best of both worlds: the look and feel of timber wrapped in the manageability, versatility, and durability of plastic.
1. Appearance
Differences in Look and Feel
One of the biggest concerns when choosing a decking material is that composites won't look as nice as wood. However, recent advancements in composite manufacturing have allowed them to emulate the natural look of wood without the trouble of maintaining a wood deck. While composite decking might once have looked obviously artificial, it has now advanced to a point where it can truly replicate wood grain patterns to look more like the real thing.
Aging
Wood decks look great right after construction finishes, but their appearance is likely to deteriorate over time, even with proper maintenance. Alternatively, with proper cleaning, a composite deck will look the same ten years down the road as it did on day one.
2. Maintenance
Painting, Sealing, and Other Treatment
In order to ensure the long life of a timber deck, regular maintenance — including painting, staining, and sealing against moisture — is required. All timber decks will eventually fade and rot, especially without proper maintenance.
No such maintenance is necessary for composite boards; simply washing and sweeping will keep the deck looking nice. It also doesn't degrade over time the way that wood decking boards do.
The look and feel of real wood is nice, but costs much more time, energy, and money to maintain properly than composite decking. If you're looking for a no hassle option, composite decking provides a much simpler experience.
3. Durability
Natural Wear and Tear
Timber decks are known to splinter and/or warp due to wear and tear, weather, and insect damage — especially if not treated and maintained properly. Most timber decks will need heavy maintenance and repair over their lifetime in order to continue to be safe, functional, and presentable.
Composite decks are less susceptible to this kind of degradation and require very little maintenance to ensure their long lifespan.
Bugs and Termites
Unlike most wood decking, composite decking is not susceptible to termite damage or damage from other wood-destroying insects, eliminating expensive repairs and unnecessary worry.
Moisture
Wood decking also more readily absorbs water, contributing to eventual warping, cracking, and rotting. Alternatively, composite decking is fully water resistant, allowing it to have a longer lifespan than wood decking.
4. Cost
Initial Cost vs Long Term Affordability
When you're first making your decision about timber vs composite decking, it can be easy to be put off by the price of a composite deck. Up-front affordability is one of the key benefits of wood decking. Even high-end wood like cedar and redwood is often less expensive than the most affordable composite decking.
However, though the initial cost of wood is less, you'll pay more long-term in annual maintenance and repairs. That's why composite decking can be a smarter, more strategic long-term investment. What you don't pay in annual maintenance costs will pay off the higher initial cost of composite decking in just a few short years. After that, you're free to enjoy your deck for many years.
Building a Deck on a Budget
Prices vary, but if you're on a budget and simply can't afford a composite deck, a wood deck can be an attractive alternative. To understand all your options, it's wise to price out each type of wood you're looking at with its composite alternative. This way, you can understand how much you'll be saving initially and whether those savings are more valuable than long term durability and lower maintenance costs.
5. Safety
Splintering
Over time, all wood decks will start to age and eventually splinter, causing a potential safety issue. This can be a top consideration for those with small children, pets, or, depending on the recreational use of the deck, those who plan to primarily enjoy it barefoot.
Surface Temperature
An additional traditional advantage of wood decking is that it is much more heat resistant than composites. Whereas composites can become hot in direct sunlight, wood can stay relatively cool.
However, new advancements in manufacturing and technology have made it possible to reduce the heat absorption of composite decking and enhance UV stabilisation. If you live in a place where temperatures are high in the summer, this is an important factor to take into consideration.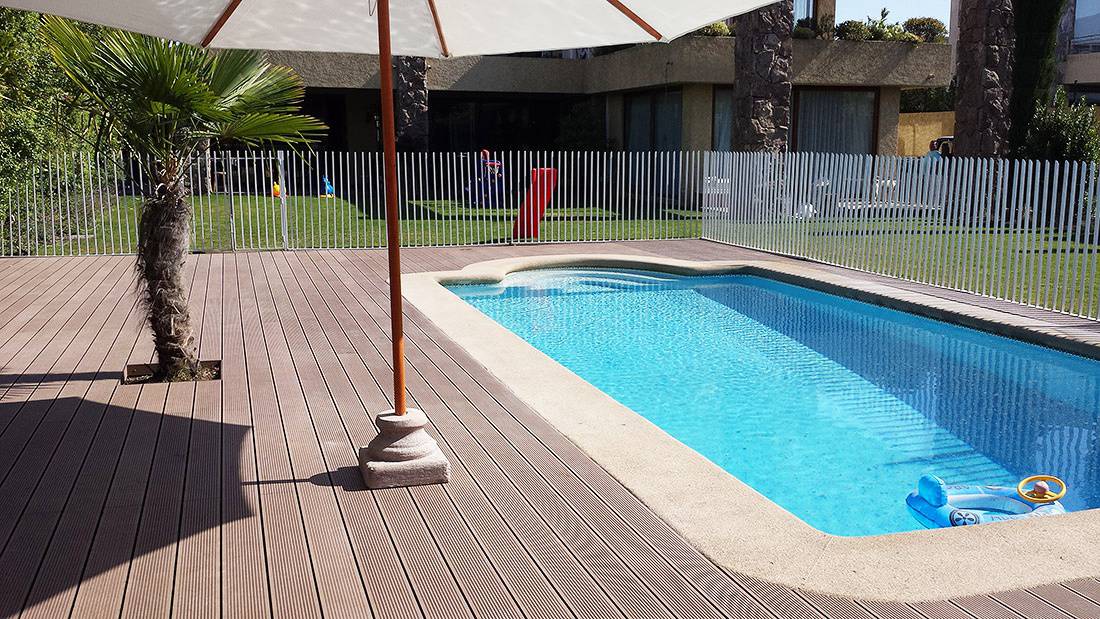 How to Choose Which is Better: Composite or Wood Decking
Overall, the material you choose comes down to your preference and your budget. If you love the look of natural wood and don't mind spending more time and money maintaining it, a traditional wood deck can be a great option.
But, if you're looking for a low maintenance, long lasting deck with all the benefits of real wood, composite decking might be your perfect choice. Now that you know the benefits of wood vs composite decking, you can make a selection based on what's right for your budget, your family, and your home!